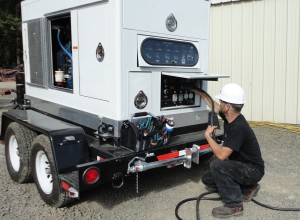 Power Systems Plus, Inc. has technicians on call 24 hours a day, seven days a week, 365 days a year to assist you with generator repair service in the greater Portland, OR area.
Technician hourly rates:

$125.00/hr Mon – Fri, 7:00 am to 5:00 pm
$187.50/hr Mon – Fri, 5:00 pm to 7:00 am, and Saturdays
$250.00/hr Sundays and Major holidays
$1.95/per mile travel fee added to all service & repair jobs
Emergency Generator Service
Power Systems Plus, Inc. provides 24 Hour Emergency Call-Out Service for repairs, service, and analysis on defective or malfunctioning power generation equipment.
We are committed to a quick response time by highly trained personnel.
Troubleshooting
Our trained generator technicians are capable of determining the cause of troublesome issues.
Our troubleshooting procedure enables us to eliminate possible problems until the actual issue can be determined.
Known repairs
If recommendations or repairs are needed after a service we provide an estimate for that work.
We do all the research and leg work of locating the proper parts for your system regardless of the brand.
We are not limited in who we work with for parts.
We strive to obtain the best parts at the lowest rates for any repairs.
Our hourly rate is less than many of our competitors, and we strive to be faster and more efficient.
We can service stationary and portable generators