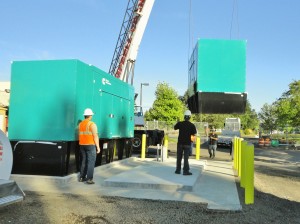 Power Systems Plus, Inc. installs emergency power systems including generators, UPS, transfer switches and accessories.
We are capable of:
Transporting equipment
Offloading generators at your site
Moving a generator to a new location
Lagging a generator set to concrete pad (depending on code for your site this may require adhesive seismic rated anchors)
Installing a new housing over your existing generator set (sound attenuated and/or weather proof)
Installing a new fuel tank for your generator
Installing generator transfer switches
Installing remote monitoring systems
Installing an exhaust system
Installing UPS system
Installing Fuel polishing systems
Removing and Decommissioning existing systems
Fabricating platforms or other metal work
Installing or repairing HVAC systems
After installation, Power Systems Plus Inc. performs start up and commissioning services:
Warranty pre start check-list
Alarm system verification
Power failure simulation tests
Any other services required for a new install start up.
We are familiar with state emergency generator installation requirements. We provide both industrial generator installation as well as whole house generator installation.