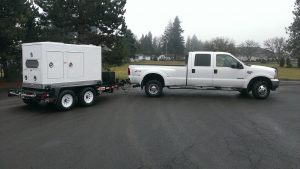 Studio units are technically advanced, yet operator friendly. The EGS500C studio generator is designed specifically for the entertainment industry to reduce noise and increase reliability. Unit operates with either 120V / 240V, 1 phase, 120V / 208V 3 Phase or 277V / 480V 3 Phase. Phase and voltage selection are adjusted by simply flipping a switch. Our portable design also facilitates easy transportation to and from any entertainment site or special event. Integrated fuel tank provides enough fuel to run unit at full load for 48 hrs and up to 96 hours at half load.
Need more power supply? Our rentable distribution panels have 12 quad box string plugs for up to (60) 20 amp GFI receptacles per distribution panel. Provide your next event with a single quiet mobile unit that is capable of running all your stations off a single power source.
Click Play to see a video explanation of the event generator and power distribution.
Power Systems Plus 2013 Generator Rental Rates

EVENT STUDIO RENTAL RATES

3-day Rate

 

0-24 hrs

25-48 hrs

49-72 hrs

30 kw

$ 459.00

$ 591.00

$ 723.00

50kw

$ 487.00

$ 632.00

$ 778.00

60kw

$ 512.00

$ 670.00

$ 829.00

80 kw

$ 556.00

$ 736.00

$ 917.00

90 KW

$ 600.00

$ 802.00

$ 1,005.00

Weekly Rate

 

0-40 hrs

41-80 hrs

81-168 hrs

30 kw

$ 679.00

$ 921.00

$ 1,163.00

50kw

$ 723.00

$ 987.00

$ 1,251.00

60kw

$ 767.00

$ 1,053.00

$ 1,339.00

80 kw

$ 855.00

$ 1,185.00

$ 1,515.00

90 KW

$ 907.80

$ 1,264.20

$ 1,620.60

 

 

 

 

Monthly Rate

 

0-180

181-360 hrs

361-above hrs

30 kw

$ 2,191.20

$ 2,785.20

$ 3,379.20

50kw

$ 2,235.20

$ 2,851.20

$ 3,467.20

60kw

$ 2,384.80

$ 3,075.60

$ 3,766.40

80 kw

$ 2,525.60

$ 3,286.80

$ 4,048.00

90 KW

$ 2,719.20

$ 3,577.20

$ 4,435.20

***

3% environmental fee applies to rental rate.

***

Delivery and pick up of rental equipment: $100.00/ hour. Includes truck standby time if applicable.

***

$1.95 per mile for travel from storage yard to site and back.

***

Rental cable: $0.60/ft per 3-7 days, $1.40/ft per month

***

Distribution Panel and Cable Stringers available for rent. Call for pricing.

***

Pigtails, no charge if returned

***

Engine service cost applies if operating hours exceed 250 hours during rental period.

***

Refueling fee will apply upon return of rental if fuel used is not replaced by customer.

***

See rental Contract for more details

L x W x H (with Trailer) 12.2 x 5.7 x 7.10

Maximum towable weight of 7200lbs
(Deposit may be required)